Reprinted from January 5, 1935

Noteworthy Union of "Boston Trustees"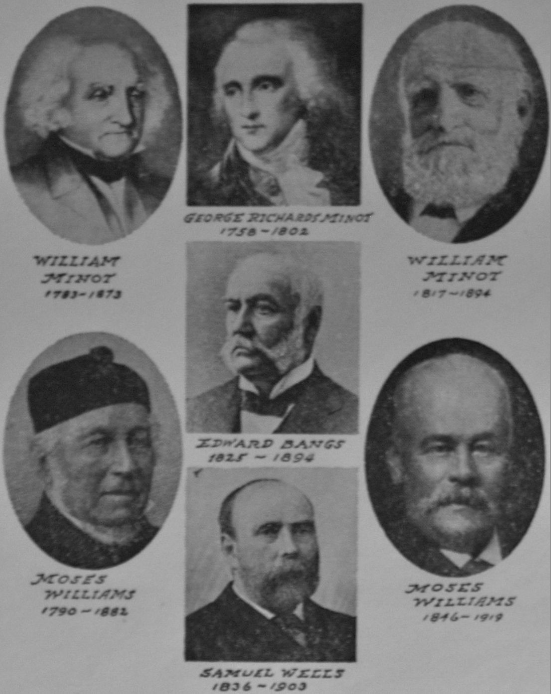 Minot, Williams & Bangs, Inc., Consolidates the Interests of the Minot and Williams & Bangs Offices in the Management of Real Estate and Personal Property
One of First Funds — Benjamin Franklin's Gift of $4000 in Trust to the City of Boston — Entrusted to a Minot and Gratuitously Administered Grew to $125,000 in 64 Years
The "Boston Trustee" is known over all the country as an outstanding example of the man who serves ably and honestly those who entrust to him the care of property and the conserving and upbuilding of estates. It is a reputation that had its foundations in days before the United States was an independent nation. Trusteeship has become a family profession so that some Boston offices date back to the early years. One such instance comes to notice now with the statement being sent out to the public that "the business of managing real estate and personal property conducted for many years by the undersigned and their predecessors will hereafter be carried on by Minot, Williams & Bangs, Inc., a corporation organized in Massachusetts. The same offices will be maintained and clients, beneficiaries and tenants will receive attention from the same individual trustees, agents and members of the organization as heretofore." Those who sign the statement are Moses Williams, William Minot, Francis R. Bangs, Adelber E. Buffum, Edwin D. Brooks, William B. Baker, Moses Williams, Jr., Williams & Bangs, The Woodbourne Co.
The Minot office had its beginning six years before the United States became the United States by adopting a constitution and when Massachusetts in 1788 held its convention to decide whether it would accept the constitution, John Hancock was its president and George Richards Minot, already a lawyer of reputation, was its vice president. Minot had entered Harvard in 1774 and graduated as valedictorian. He studied law with Fisher Ames and in 1782, when twenty-four years old, he was admitted to the bar and opened an office at 39 Court Street, on which street John Adams also had an office. Minot's first sign, or "shingle" was fixed to an elm tree which stood in the front yard of the building. He became clerk of the Massachusetts House of Representatives, and being able, industrious and of good family, it was not long before clients came his way. He was honest, faithful, trusted, and soon began to file with the Probate Court reports as trustees of property entrusted to him for management and care. He took active part in civic affairs. He was one of the organizers of the Massachusetts Historical Society. He helped to establish in 1798 the Massachusetts Mutual Company, one of the first companies organized to protect Boston against loss by fire, and judge of probate. So well did he serve as trustee that at his death in 1802 he had won position as one of the most successful in Boston. In time the original "shingle" and the elm tree at 39 Court Street disappeared, the first building was replaced by another, and that in its turn by another, but for nearly a century and a quarter there continued to be, where George Richards Minot established it, the office of Minot, trustee. At 39 Court Street a succession of Minots carried on as successful trustees until "Minot" and "trustee" became almost synonymous.
Handled Benjamin Franklin Fund
George Richards Minot at the time of his death had spent fifteen years at the Court Street office. He was not followed immediately at the office by a Minot for his son, William Minot was then only nineteen and graduated from Harvard a few months later with the class of 1802. Out of college, William Minot studied law and was admitted to the Suffolk County Bar in 1805. At first he tried at opening an office in Marlboro but returned almost at once to the office at 39 Court Street.
One of the first funds entrusted to him as trustee was $4000 which Benjamin Franklin had bequeathed to Boston and this Minot administered gratuitously for sixty-four years, at the end of which time he handed over to the city the $125,000 into which the original sum had grown under his care.
In 1841 William Minot's son, William joined his father at 39 Court Street office, having been admitted to the bar the same year. The younger William prepared for Harvard at Boston Latin School, which then stood where the Parker House is today. He graduated with the Class of 1836 and began the study of law but because of his health he travelled abroad for a while before settling down to his life work in his father's office and started out on his career as trustee. Young Minot soon found plenty to do. Trusteeships took up practically all of his time but he did, by request make a study of conditions of the Boston & Providence Railroad and as a result made recommendations which, being adopted, enabled the road to resume payment of dividends.

Son, Grandson, Great-Grandson
The second William Minot lived until 1894, but long before his death his son William, born in 1849, the third William of the line, had entered the office after studying at Harvard Law School, so that there were days at 39 Court Street when could be found there the son, the grandson and the great-grandson of George Richard Minot, who had started as a trustee there in 1782.
The William Minot who was born in 1849 was a busy man. There was plenty of work to be done as trustee, but he also engaged in work of more public interest. He brought about the repeal of the laws which worked the double taxation of mortgages, he helped establish the Boston Real Estate Trust, one of the earliest of the real estate trusts for the investment of trust funds, he had a principal hand in the sale of the Philadelphia, Wilmington & Baltimore Railroad and preparation and enactment of the building laws of Boston, for which he went on a tour of study to Paris in 1892. Associated with him were his brothers, Robert Sedgwick Minot and Laurence Minot. As the eldest brother had helped to establish one of the first real estate trusts so Robert was instrumental in the formation of the Boston Personal Property Trust of which he was a trustee and actuary from its inception to his death in 1910. Although a great many investment trusts of one kind or another were formed in the decade between 1920 and 1930 the Boston Personal Property Trust, patterned on similar organizations in England, was started in 1893 and was probably the first investment trust of a general type formed in America. The original trustees were John Quincy Adams, Moses Williams, William Minot, Jr., Abbott Lawrence Lowell and Robert S. Minot and the board today contains an Adams, a Williams and a Minot though none of them are of the original board of trustees.
Other Minots Follow
Laurence Minot had entered his father's and brother's office as an office boy in 1879 when he was but fourteen years of age. He had studied at Harvard and after his father's death in 1894 he carried on the business with his brothers, both of whom he survived. He was active in public affairs and was chairman of the Good Government Association which was organized in 1903. One piece of work in which he was greatly interested was development of the Park square property.
The fourth William Minot, the present one, entered the Minot office on his admission to the bar a few years after his graduation from Harvard in 1907. By then, after 120 years occupancy of 39 Court Street, his uncles, Robert and Laurence, had moved to 18 Tremont Street. There on the death of Laurence Minot, in June, 1921, William Minot, trustee — great, great grandson of George Richards Minot ""became head of the Minot offices.
On Dec. 28, 1790 seven years after the birth of the first William Minot, there was born in Boston Moses Williams, who like his contemporary William Minot was to live to be a nonagenarian. He was brought up on the old Williams farm in Roxbury and when twenty-three, with his elder brother, organized the food and wine firm of J. D. & M. Williams. Moses Williams believed in Boston and invested the profits from his business in Boston real estate. In 1822 he was elected a member of the first city government of Boston and lived to be the last survivor.

Built State Street Block
He became a director of Washington Bank, Boylston Insurance Company and president of Central Wharf Corporation, the wharf being one of the famous ones of its day. With Thomas Lamb he built, in 1856, the massive State Street Block. From 1866 until his death in 1882, he gave his time to the management of his property, which included real estate holdings in many parts of Boston. In the management of his property he was assisted by his grandson, Moses Williams, whose father Moses Blake Williams, Boston merchant and resident of Brookline, died in October, 1866. Moses Williams, born in 1846, graduated from Harvard in the Class of 1868. Young Williams studied law in the office of Shier & Welch and was admitted to the bar in December, 1868. He gave up the idea of active general practice to assist his grandfather and was so successful that many estates were entrusted to him. He became, as his grandfather had been before him, president of the Central Wharf Company, of which a Williams had been the president for ninety-five of the 119 years since its organization. He served in the Massachusetts House in 1874, 1875, and 1876, was chairman of the Brookline selectmen, moderator of Brookline, trustee of the Brookline Public Library and of Massachusetts General Hospital and an overseer of Harvard College. He was president of the Fitchburg Railroad, Third National Bank, State Street Trust Company, which he helped to organize, and was a director, among other companies of the American Telephone and Telegraph Company, American Bell Telephone Company, West End Street Railway, Boston Power Company and Boston & Maine Railroad Company.
The Third Moses Williams
In 1894 his son Moses Williams, the third Moses Williams, was admitted to the bar and took up the management of property. He became trustee of estates, became connected with the Minot office and when the Minots moved to 18 Tremont street Mr. Williams moved with them. Standing in his office is an old clock, once in the office of the Central Wharf Company and before in the old Drury Lane Theater in London. It is of English make in an American case and at least 125 years old.
In 1907 Mr. Williams with Francis R. Bangs, who had been a classmate in the Harvard class of 1891 and then a member of the law firm of Hill, Bangs, Barlow & Homans organized the firm of Williams & Bangs to take over the business of Bangs & Wells a firm started in 1873 when Edward Bangs and Samuel Wells formed a partnership for the practice of law. From the start Bangs & Wells' business was largely the management of property as trustees under testamentary trusts. After the firm had been going for some years Edward A. Bangs, a son of Edward Bangs, and S. Gannett Wells, son of Samuel Wells, were admitted to the firm and carried on the business after their fathers died. Gradually their business tended toward the management of real estate and for some years following 1898 the firm was active in the erection of some of Boston's early steel frame buildings. In 1907 S. Gannett Wells died and the firm of Bangs & Wells was succeeded by Williams & Bangs with offices in the Kimball Building adjoining the Minot offices, with which Mr. Williams was associated. There for twenty-seven years it has been engaged actively in the management of property.
The Joining of Forces
Upon the death of his father in 1919, Mr. Williams succeeded to the property management business conducted for many years by his father and moved that business also to 18 Tremont Street. So there came together at 18 Tremont Street the group now made up of William Minot, Moses Williams, Francis R. Bangs, Adelbert E. Buffum, Edwin D. Brooks, William B. Baker and Moses Williams, Jr. which is consolidating its affairs in the single corporation, Minot, Williams & Bangs, Inc., to carry on the same business which for so many years has been conducted individually.
When George Richards Minot opened his Court Street office in 1782 the business of trustees was the care of testamentary trusts, property left to them by will for the benefit of persons named in the will, generally the wife and children of the testator. It was the duty of the trustee to see that the principal was safely and well invested and to distribute the income as directed by the will. Trustees stood in a peculiarly personal and responsible position towards beneficiaries for they had to depend upon the trustee to so manage the property as to pay the largest possible income and at the same time to safeguard the body of the estate and if possible invest it so as to increase it in value. In the giving of such service the Minots were singularly successful, with the result that a large number of testamentary trusts were constantly in their care. To find proper investments in which to place trust funds safely early became a pressing problem for trustees. Real estate was a most desirable form of investment but the value of desirable real estate was high and few estates had sufficient sums to buy desirable pieces: trustees hesitated to tie up too great a part of the funds of an estate in one piece of realty.
Out of the desirability of finding a way to make real estate available for trust investment evolved what has become known as "the Massachusetts trust." Under the statute law at that time it was impossible to organize a corporation to deal in real estate, to buy, hold and sell it for profit. Under the common law it was possible to organize voluntary associations in which a trust fund could be turned over to a group of men as trustees to manage and handle for the benefit of the contributors to the fund. This trust fund could be used to buy land, take ground leases, loan on mortgages and profits or proceeds of transactions could be divided among contributors or beneficiaries who for the amounts which they contributed held transferable shares entitling them to participate ratably in profits and proceeds. The trustees of the fund held their places permanently and could not be removed by holders of shares. By organizing such associations trustees were able to buy valuable pieces of realty and to distribute shares in them among many estates, thus giving to each trust breadth, diversity and security of investment and promise of increase of capital without placing too many eggs of any one trust in one basket. The trustees of a "Massachusetts trust" could go in to other States and buy real estate and it was partly through them that Boston money helped in building the West. In this way the reputation of Boston trustees widened and increased and they were able to serve better than before both investors and beneficiaries.
And today, as when George Richards Minot started at 39 Court Street, the measure of the best trustee is honesty, ability and singleness of purpose in serving beneficiaries.